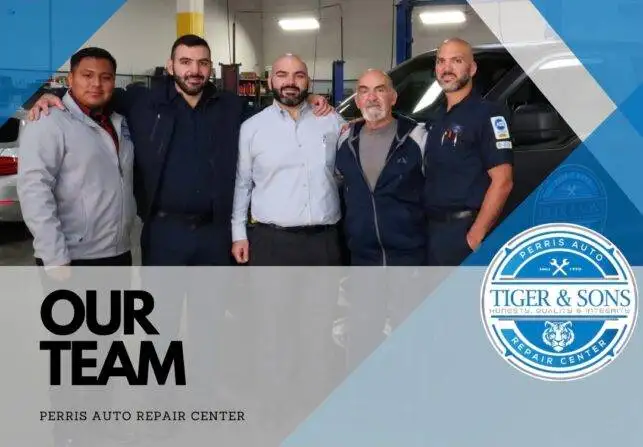 At Perris Auto Repair, our dependable auto service center staff works hard on getting your maintenance and auto repair jobs done correctly the first time. The Eid Brother's take after their Father and use his three principles when approaching any sort of repair or maintenance; honesty, quality and integrity.
Tires, brake repair, transmission service- we do it all! Our staff of ASE Certified Technicians are eager to diagnose your vehicle's problem, get it fixed properly, and have you back in your car and on the road in no time! We are a family run shop and want our customers to feel like they are part of our family when they bring in their car or truck into our shop.
At Perris Auto Repair Customer satisfaction is our #1 priority, we want to invite you to experience the difference! We promise to deliver honest answers and a job done right the first time!
Perris Auto Repair Center has a very interesting history. It begins with Tiger Eid moving to Southern California in 1972 and beginning work at a BFGoodrich station. From there he started his own business in 1978 which was a gas station and auto repair shop out in Palos Verdes. When a few years passed, he decided to move to a more country style setting and went out to San Diego. From here he settled on a shop in Perris, CA off D St.
And after 18 years in that shop they moved to their current location at 5168 Western Way Perris, CA 92571. It has been a long journey for Perris Auto Repair Center and now it's up to his kids to keep things running. And they do so by adhering to the values set forth by their father, meaning they do honest work and are always looking to help out their loyal customers. They also continually go through customer service and auto repair training to provide you, the driver, with the best automotive maintenance experience possible.
Our Affiliations and Partners